Foundation Repair
Level and Elevate Your Home's Foundation
Modern
Innovative Methods for Securing Your Foundation
Throughout our city's history, home elevation and leveling have been the answer to devastating flood waters and unstable delta soil. Updating existing structures to withstand these elements requires the latest retrofitting techniques, the newest materials and equipment, and pioneering tradesmen.
Abry Brothers begins by carefully reviewing your existing structure and its integrity in keeping your home secure. Homes throughout New Orleans tell their own unique story, depending on their floodplain location, soil interaction, root exposure, and structural age. By assessing your story, we develop a solution that keeps your home secure and protected.
The FEMA-commissioned book, The History of Building Elevation in New Orleans, details our story and that of the home elevation industry in the Crescent City.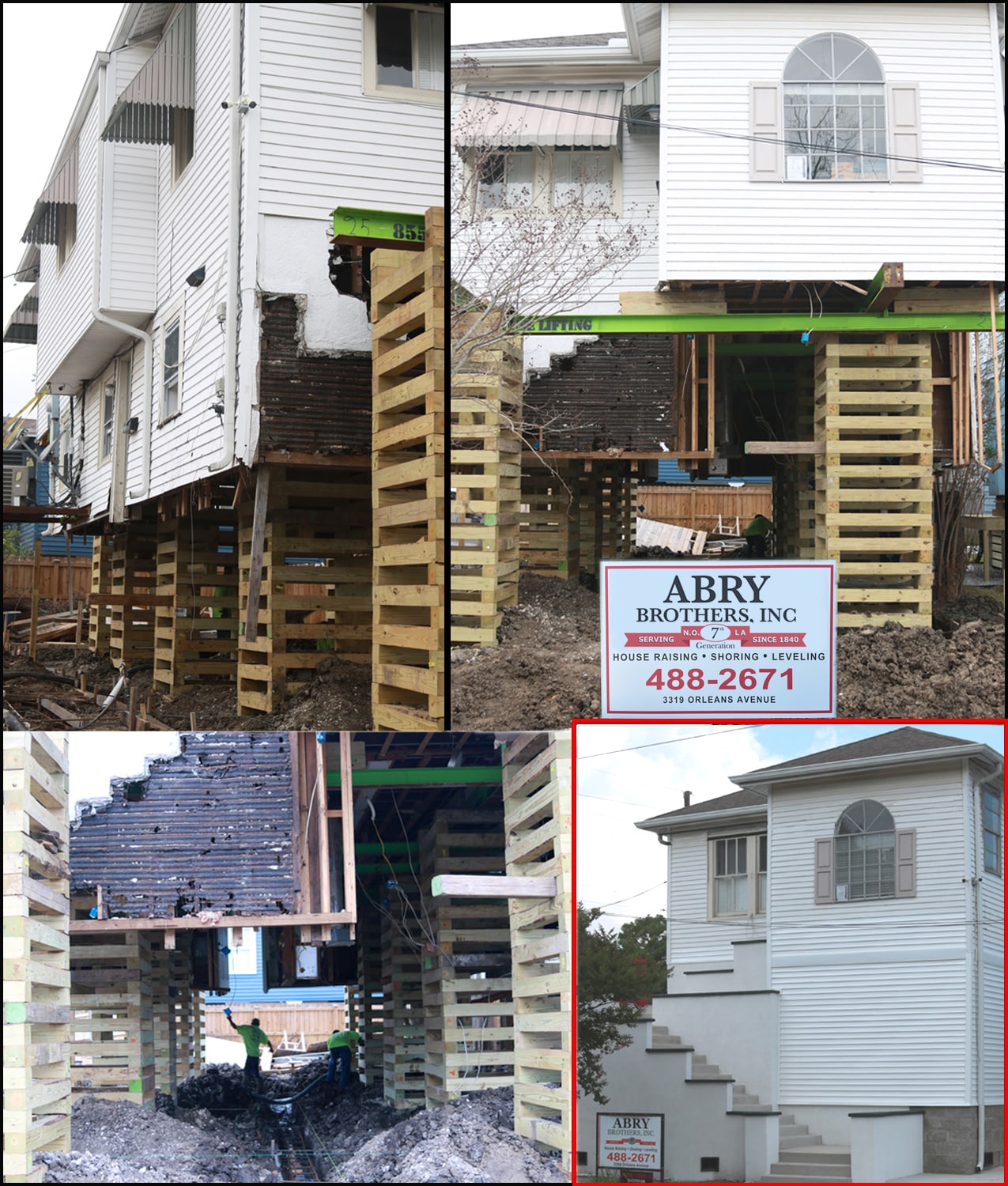 Sustainable
The Importance of Home Leveling and Elevation
Balancing Your Foundation for the Future
Soil moisture, drainage problems, and root systems are just a few of the issues that cause an uneven foundation. Their effects can appear in uneven floors, wall cracks, and structural separations. Abry Brothers will thoroughly assess the causes and symptoms of imbalance, recommending a solution that keeps moisture out for years to come.
Elevating Your Home Above the Floodplain
Our region is prone to flooding, and the waters can cause destruction when they reach the level of our precious belongings. However, Flood Protection Elevation can keep your home, history, and loved ones safe. Abry Brothers has lifted homes through methods that keep floors, facades, sheetrock, and fixtures secure. Through thorough evaluations, hands-on project planning, and a grant program, we help pass homes and heirlooms to future generations.
Cutting-edge
Our Pioneering of Home Leveling and Elevation in New Orleans
Home leveling and elevation techniques are steeped in our city's rich history, and Abry Brothers is bringing this story into the future. Learn more about our home elevation history in the FEMA-commissioned book, The History of Building Elevation in New Orleans.